Freedom Chair – Model 1550
The Freedom Chair is the perfect device to allow access for people in wheelchairs to transport with ease across rough outdoor terrain areas such as paths, beaches and parks. It doubles as a chair that also may
transport people up and down stairs or as an emergency
evacuation chair.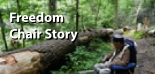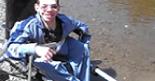 REDUCE LIABILITY EXPOSURE
Having evacuation chairs in your building greatly reduces your liability exposure by providing quick and easy means of evacuation for people with special needs.
EASILY EVACUATE MOBILITY IMPAIRED
These evacuation chairs are easy to use. Our Emergency Evacuation Chairs and BabyScatt store flat for convenience yet unfold for use in seconds. Our devices can be operated with little or no training.
TRANSPORT TO SAFETY
Our evacuation chairs are designed to provide transportation to safe locations. In the event of an emergency, you need quick and easy methods of evacuation. The ability to evacuate both up and down stairs is essential to any safety plan. Does your evacuation plan meet your fire code?
ARE YOU PREPARED?
Do you have an evacuation plan that includes transporting people with special needs, injured persons or infants? If not, call us. We can provide evacuation chairs and devices, a safety consultation and training.
SPECIFICATIONS
Folded Dimensions: 60" x 24" x 11"
Unfolded Dimensions: 60" x 24" x 37"
Weight Capacity: 650+ lbs.
Weight: 23 lbs.
Materials: Aircraft grade aluminum, rugged pneumatic tires, weather resistant open weave polyester seat, polypropylene restraint harness with nylon buckle, hook and loop arm/leg restraints, comfortable non-slip rubber grips.
• Arm rests & safety restraints
• Safety harness
• Leg safety restraints
• Large storage pocket
• Fits in most car trunks
• Carry both up & down stairs
• Folds for easy transport and storage
• Up to 6 handles for people to share lifting
• Sturdy aircraft grade aluminum
• Comfortable non-slip rubber grips
• Lightweight - weighs less than 19 lbs.
• Weight capacity of over 650 pounds
• Weather proof open-weave polyester
• Comes with 2 sets of wheels/tires:
5" rugged polyurethane wheels
plus 10" Worry Free tires/wheels
for outdoor terrain use

Crosswind Concepts provide products which address the needs of a broad spectrum of people. Safety, health, and comfort are the driving ideals behind everything we aspire to develop and make available.