Create a safe and efficient cockpit with the "Cockpit Companion". It is a convenient organizer for the loose items that pilots shuffle in the cockpit. It is easily installed with the supplied Velcro between the front seats and features "clean-out windows" at the bottom of the storage areas. Attractive and durable, the "Cockpit Companion" is built from top-grade smoked acrylic.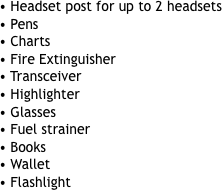 Cessna Owners, Welcome to the "Cockpit Companion" Website!
Newer Cessnas (1998 and newer) do not have the available space between the seats due to the seat belt retractors.